Reserve Your Jeep Wagoneer or Grand Wagoneer At Central 44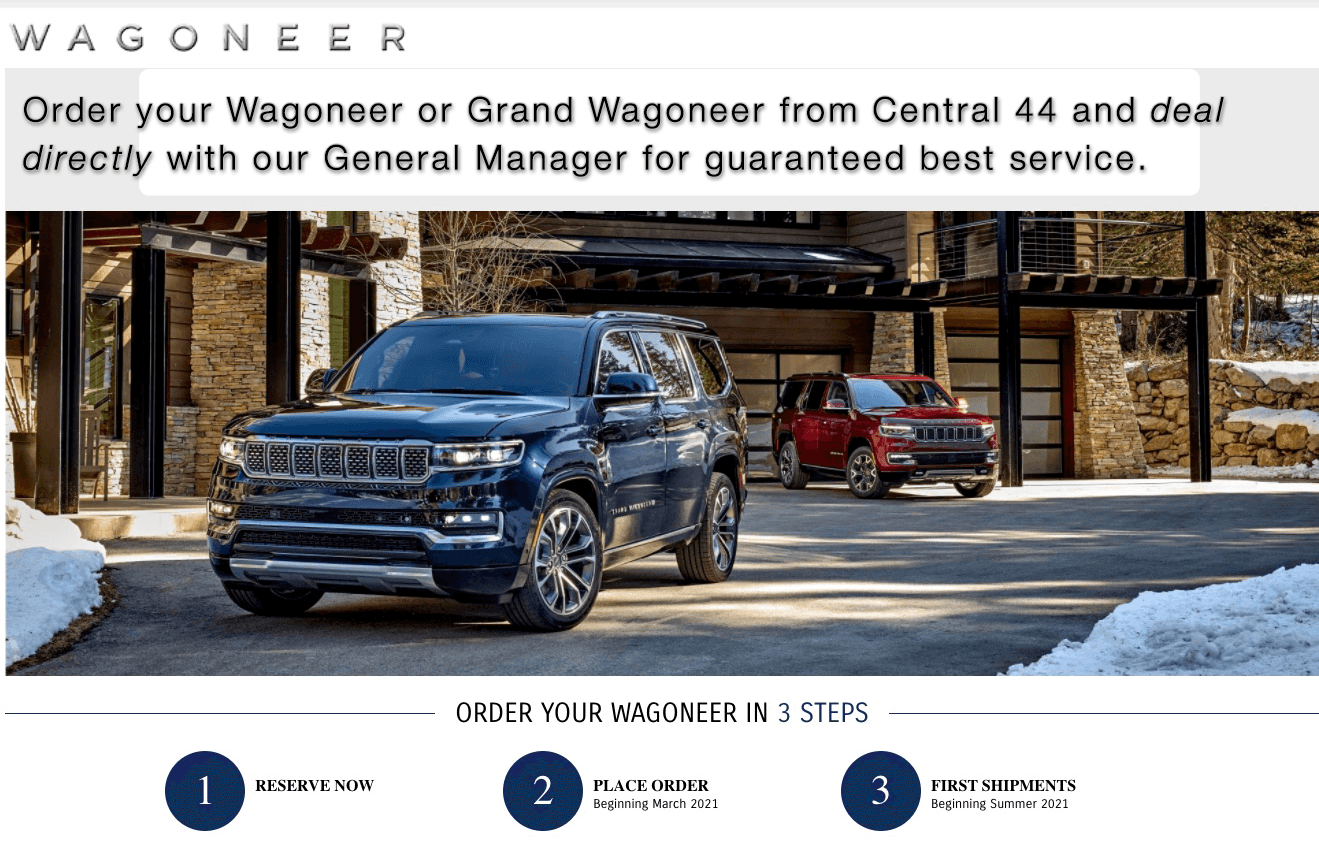 Frequently Asked Questions
WHAT IS A WAGONEER RESERVATION?

The reservation gets you one step closer to owning an All-New 2022 Wagoneer or Grand Wagoneer by securing your place in line to submit a vehicle purchase order. After placing your reservation, you will be contacted by the Wagoneer Concierge to confirm the details of your reservation. After confirming your reservation, you will be contacted by your selected dealer to complete and submit your purchase order, which is expected to occur several months before your scheduled vehicle production date.

HOW DO I RESERVE A WAGONEER?

Reserve yours today through the online reservation process. The simple process will walk you through four easy steps: choose your trim, choose your participating dealer, enter your information, and confirm your reservation agreement. Limitations may apply.

NO DEALERS ARE SHOWING UP WHEN I ENTER MY ZIP CODE. ARE THERE NO DEALERS IN MY AREA?

Please enter the zip code. Doing so will populate a list of your closest participating dealers. WAGONEER Reservations are available only in the United States.

I COMPLETED MY WAGONEER RESERVATION. WHAT'S NEXT?

The Wagoneer Concierge will contact you to confirm the details of your reservation, including your selected dealer. The dealer will contact you after you confirmed your reservation to complete your purchase order. The purchase order confirms your order details such as the model year, color, trim options, and price of your vehicle.

DID MY WAGONEER RESERVATION GO THROUGH?

If you were directed to a "Thank You" web page after submitting your reservation, then your reservation was successfully submitted. You will also receive a Reservation confirmation email within 48 hours.

WHERE AM I IN LINE?

Reservations are stored sequentially in the order they were received. Your reservation will be fulfilled based on availability of your chosen configuration and vehicle production, which begins in Summer 2021. Vehicle production schedule is dependent upon numerous variables, including trim and option selections. Your selected WAGONEER dealer will contact you to provide delivery detail timing once your vehicle is ready to be built. Specific details regarding vehicle production timelines are not currently available at this time.

WHEN WILL I GET MY WAGONEER?

WAGONEER production to begin Summer 2021. When your vehicle is about to be produced, you will place your purchase order with your selected dealer and receive approximate timing for delivery.

WHERE IS MY WAGONEER RESERVATION CONFIRMATION EMAIL?

It will take up to 48 hours to receive your WAGONEER reservation confirmation email. If you haven't received the confirmation email after 48 hours, please contact us at 833 968 7924 or Concierge@WagoneerClientServices.com.

WHERE CAN I GET A COPY OF MY RESERVATION AGREEMENT?

Your reservation agreement is available and can be printed or saved at the end of the online reservation process. If you did not save or print your reservation agreement at the time you submitted your online reservation, you may contact your dealer for a copy of your reservation agreement.

WHERE CAN I FIND MY RESERVATION ID?

WILL MY CONFIGURATION DETAILS BE SENT TO THE DEALER?

WHAT STEPS ARE REQUIRED TO COMPLETE MY RESERVATION?

Go online and select your preferred configuration, select your preferred dealer and click on "Reserve now" button to enter the customer details like Name, Phone Number & Email Id and proceed further for payment through PayPal or as a guest with your credit/debit card. A confirmation receipt will be sent to your email address.

HOW MUCH WILL IT COST TO RESERVE A WAGONEER?

Reservations cost $500 for each model.

IS THE $500 RESERVATION FEE REFUNDABLE?

Yes. Please contact the Dealer for refund.

WILL RESERVATIONS BE FULFILLED IN THE ORDER PLACED?

Reservations will be fulfilled in approximately the same order received; however, actual delivery may vary based upon a number of factors including vehicle model and configuration selected, commodity constraints, residency, delivery, and final ordering and production of similarly configured Wagoneers.

WHEN WILL CUSTOMERS BE ABLE TO CONVERT THEIR RESERVATIONS TO ORDERS?

Order conversion process will begin in March 2021. Customers should expect their selected dealer to schedule an order consultation to complete their configuration, agree on selling price, and place the order.

CAN I SELECT ANY DEALER?

Only Dealers that are eligible and have activated online reservations can be selected. The eligible dealers will be provided based on your ZIP code and within the radius of 50 miles of the ZIP Code entered will be allowed to select.

CAN I CANCEL MY RESERVATION?

Yes. You can cancel your reservation by contacting Wagoneer Concierge (833-968-7924) or the dealer.

WHAT HAPPENS TO THE RESERVATION DEPOSIT ONCE I ORDER?

See your dealer for details. The reservation deposit would be credited or refunded based on customer preference.

WHEN WILL I TAKE DELIVERY OF MY VEHICLE?

Wagoneer deliveries begin Summer 2021 and may extend through 2022. Actual delivery times will vary based on vehicle model and configuration selected, commodity constraints, and location.

AM I BUYING THIS VEHICLE DIRECTLY FROM WAGONEER?